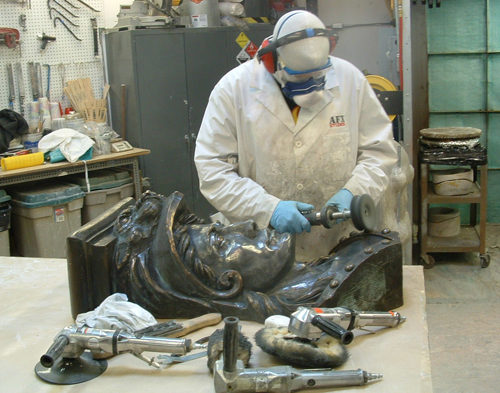 LuminOre is a unique and revolutionary metalizing system that has been changing the way the world works with metal since 1993.
A patented cold-spray technology allows us to apply a layer of real metal quickly and easily over almost any lightweight substrate or core material.
The new metal veneer cures quickly, rendering a splendid finished surface that is absolutely indistinguishable from solid metal.
LuminOre adheres to intricate contours and articulates the most delicate of sculptural surfaces. The results are stunning.
With LuminOre you will achieve for your project the timeless beauty, unmistakable tactile feel and solid quality of hot-cast metal. Yes – the look, the feel and the intrinsic value and beauty of solid metal from a foundry, but without the weight and punishing expense that would otherwise have made it unfeasible to even consider utilizing metal in your design. LuminOre is the metal solution!
LuminOre's patented cold-spray process applies a beautiful and protective layer of metal to create countless products that otherwise might be too impractical or too expensive to produce by traditional casting, plating or forging. From foam to fiberglass, cardboard to concrete, LuminOre composite metals adhere to almost any surface, in virtually any configuration or design, and provide the aesthetic benefits of a cast or forged metal - including texture, luster and heat conductivity — but without the weight and expense.
Suitable for both exterior and interior use, LuminOre Composite Metals are real metals – NOT metallic paint. They do not crack, chip nor peel. They can withstand 2,364 psi without pulling away from the metal substrate. LuminOre Composite Metal s are non-corrosive, non-conductive of electricity and possess an almost non-existent leach rate. Additionally, LuminOre traditional metals are rated as 'Class A, Class 1' materials, thus they will not support flames.
Whatever the application process – spraying or casting – LuminOre can be treated just like forged metal — i.e. sanded, sandblasted, polished, brushed, acid brushed, machined or even given a hot patina wash.
Crafting objects of solid brass, steel or other metals is an expensive and time-consuming proposition. In fact, the expense and weight involved usually make these projects completely unrealistic and unobtainable.
But LuminOre is a game-changer. LuminOre is composed of up to 95 percent metal so it provides the look, feel and durability of solid-cast metal without the expense, weight, inconvenience and time required in creating forged metal products.
Applied at a thickness of only 8 mils to 10 mils (1 mil = 0.001 inch), LuminOre is a supremely affordable alternative to traditional metal casting.
What types of substrates? Composite metal will adhere to almost any substrate. Sign foam, plastics, gypsum, wood, glass, granite, metal, fiberglass, plaster, ceramics, terra cotta, cardboard. Some substrates will require special prep,(example of aluminum substrate for exterior use will require powder coat then light sandblast prior to spray metal application.
Price is calculated based on square footage and type of metal finish requested.
Metals: Aluminum, Brass, Bronze, Copper, Iron, Nickel-Silver, White Bronze, Z3
excerpts taken from LuminOre publications.